The Joys and Pains of Writing a Novel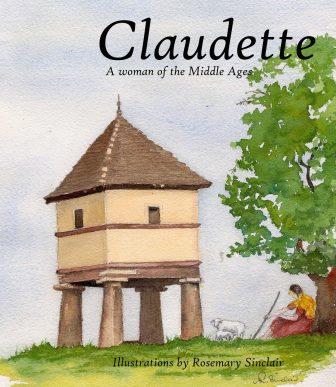 I never thought that I could write a novel – it just didn't seem to be my thing. I am amazed when I sit back in our French home surrounded by the 60cm thick stone walls of this ancient house steeped in history, and see the copies of Claudette around me, both in French and English. I never cease to wonder when I turn them over in my hands and look at them.

I had often tried to imagine the people who lived in this house hundreds of years ago, and one day I was sitting at the flagstone table in the courtyard, and pictured a little girl walking in dirty, bare feet on the flagstones. Somehow then I started writing. A short story? A novella? It took its own legs and flew along, with diversions here and there.

What fun for me to be able to involve some of the Lombard family history, which John and I have researched together over the years. In June 2007 we visited Monza, near Milan in Lombardy, where Theodelinda, the Queen of the Lombards is buried in a scarcophagus. The museum is full of her jewels and her crown. She converted the Bavarian barbarian Lombards to Christianity, they settled in Lombardy and later spread over much of Europe. They became famous for their artwork, particularly stone sculpture, and their works in silver and gold. We can trace John's branch of the family to a group of Lombard merchants who arrived in Cork, southern Ireland in the 13th century.

It was great to be able to use this story in my book, and also the true story of the Lombards in Dublin. The records are still there and the memorial stone is in Christ Church as I stated in the book.

Which brings me to the subject of research. To me, reading about the past is the greatest pleasure, although much of my research had to be done using French books and documents, which slowed me down, and required patience.

I chose the period of the 13th century as it was the time when Cluny Abbey was at its height, and there was a great deal of material available to a researcher such as myself.

And then I had to consider what I would do about illustrations, were they necessary at all? We are surrounded here by beautiful Lombard stone carvings, in churches and Abbeys, old houses, and particularly in the museum at Cluny Abbey. While wondering how to go about this, and giving some thought to copyright problems, I suddenly thought of my friend Rosemary Sinclair and her very find drawing skills. Original drawings would resolve copyright considerations I hoped. And what beautiful drawings they are, breathtaking, the detail Rosemary has put into her pencil drawings is remarkable. Rosemary assures me that it was a most enjoyable project.

Choosing names I found quite difficult and sensitive. I wanted to use old French names, but also simple names that the reader could relate to. I was careful to avoid names of people in the village in case they felt I was associating them with the story.

I have a small circle of kind readers and critiques, and the first draft I wrote I was told was too gentle, 'more drama needed' they said. So I had to get to work on that, as it was hard for me to write about violence and tragedy.

I love the fact that I can self publish my work, so much more satisfying than working with a publisher. Being in complete control of the finished work is very satisfying, particularly the cover and how the work is finally presented.

In some ways the most challenging part was the weeks of final editing and proofing. How grateful I am to my good friends who helped and gave me constructive criticism.

But, but, publishing in French… that was something else! Rachel Guyet did a wonderful job translating, but coordinating and getting the finished product ready was very difficult. I learnt so much! French punctuation is completely different, the gender issues, formal issues of 'vous' and 'tu' and different ways completely of expressing and telling a story. And in the self-publishing business I have learnt how tricky it is to present the manuscript accurately. One extra space after a full stop can throw pages out, move illustrations, make extra line breaks and so on. The final copy takes care and patience to proof and finally present.

Having said all that, I just want my readers to enjoy the book, and lose themselves for a short time in the history of this house and the region.